PE series plastic pipe material production line-PE110

Introduce:
PE series plastic pipe material production line is mainly used in the area of agricultural water supply system, architectural water supply system, pavement of cables, etc. This machine group consists mainly of vacuum calibrating tank, haul-off unit, cutting unit, tilter, etc. The single screw extruder and haul-off unit have applied imported A/C inverter, both vacuum pump and driving motor have applied excellent products. The haul-off unit includes two-claw type, three-claw type, four-claw type, six-claw type, eight-claw type, ten-claw type, twelve-claw type, etc. Scraps free cutting, saw cutting or planetary cutting can be applied, the property of machine group is reliable, the production efficiency is high.It has reached world advanced level.
1.High speed, big capacity and low power consumption the fastest lineal speed up to 35m/min and power saving of 30%
2.Achieved co-extrusion with 1-5 layers and one mould with several output
3.High speed calibration and good cooling effect with spiral mould structure design and special pipe inner cooling system
4.High speed material feeding with special spiral groove feeding design and outside water jacket cooling
5.Excellent shearing, mixing and stable extrusion with professional barrier type screw, creative shearing and mixing design

Advantages of PE pipe extruding line:
Connection reliability: polyethylene pipe system connected between the use of electric hotmelt, the joint strength is higher than pipe body strength.

good low temperature impact resistance: lowtemperature brittleness of polyethylene low temperature can be withina temperature range of subzero 60 to 60 degrees Celsius safe to use. Construction in winter, because of materials,impact resistance is good, tube embrittlement will not occur.

G

ood stress cracking resistance: HDPE has a low gap sensitivity, high shear strength and excellent anti scratch capabilities, resistance to environmental stress cracking performance is also very prominent.

G

ood resistance to chemical corrosion: HDPE pipe can be resistant to a variety of chemical media, corrosion, chemical substances that exist in the soil will not cause any degradation of the pipeline. Polyethylene is the electrical insulator, it will not happen rot, rust or electrochemical corrosion phenomenon; In addition, it will not promote algae, bacteria or fungal growth.

A

nti aging, long life: containing 2% to 2.5% of the uniform distribution of carbon black in polyethylene pipe can be outdoor storage or use of 50 years, will not be subjected to ultraviolet radiation damage.

A

brasion resistance: HDPE Pipe and comparison tests showed the wear resistance of steel pipe, HDPE pipe 4 times the wear resistance of steel pipe. In the mud transportation field, as compared with the steel pipe, HDPE pipe has better wear resistance, which means that HDPE pipe has a longer life and better economy.

F

lexible good: HDPE pipe flexible makes it easy to bend, works by changing the pipes can be a way to bypass the obstacles towards, and in many occasions, the flexible pipe fittings to reduce consumption and lower installation costs

F

low resistance: HDPE pipe has a smooth inner surface, the Manning coefficient of 0.009. The performance smooth and non adhesion properties ensure the HDPE pipe has a higher than traditional pipe transmission capacity, but also reduce the pipeline pressure loss and water consumption.
Model

Diameter(mm)

Extruder type

Max. Capacity(kg/h)

Max. Haul off speed(m/min)

Extrusion power(KW)

PE-63

Ф20-63

SJ60/33

or

SJ6

5

/33

120

/150

12

45

/55

PE-11

0

Ф20-110

SJ60/33

or

SJ6

5

/33

120/

150

12

45/55

PE-160

Ф50-160

SJ75/33

350

10

110

PE-250

Ф75-250

SJ75/33

350

6

110

PE-315

Ф90-315

SJ75/33

or

SJ

90

/33

350

/550

6

110

/200

PE-450

Ф160-450

SJ90/33

550

4

200

PE-630

Ф315-630

SJ120/33

850

2

280

PE-800

Ф400-800

SJ120/33

850

2

280

PE-1000

Ф630-1000

SJ150/33

1300

2

400

PE-1200

Ф710-1200

SJ150/33

1300

1

400

PE-1600

Ф1000-1600

(SJ120/33) X 2

1000-1700

0.16

400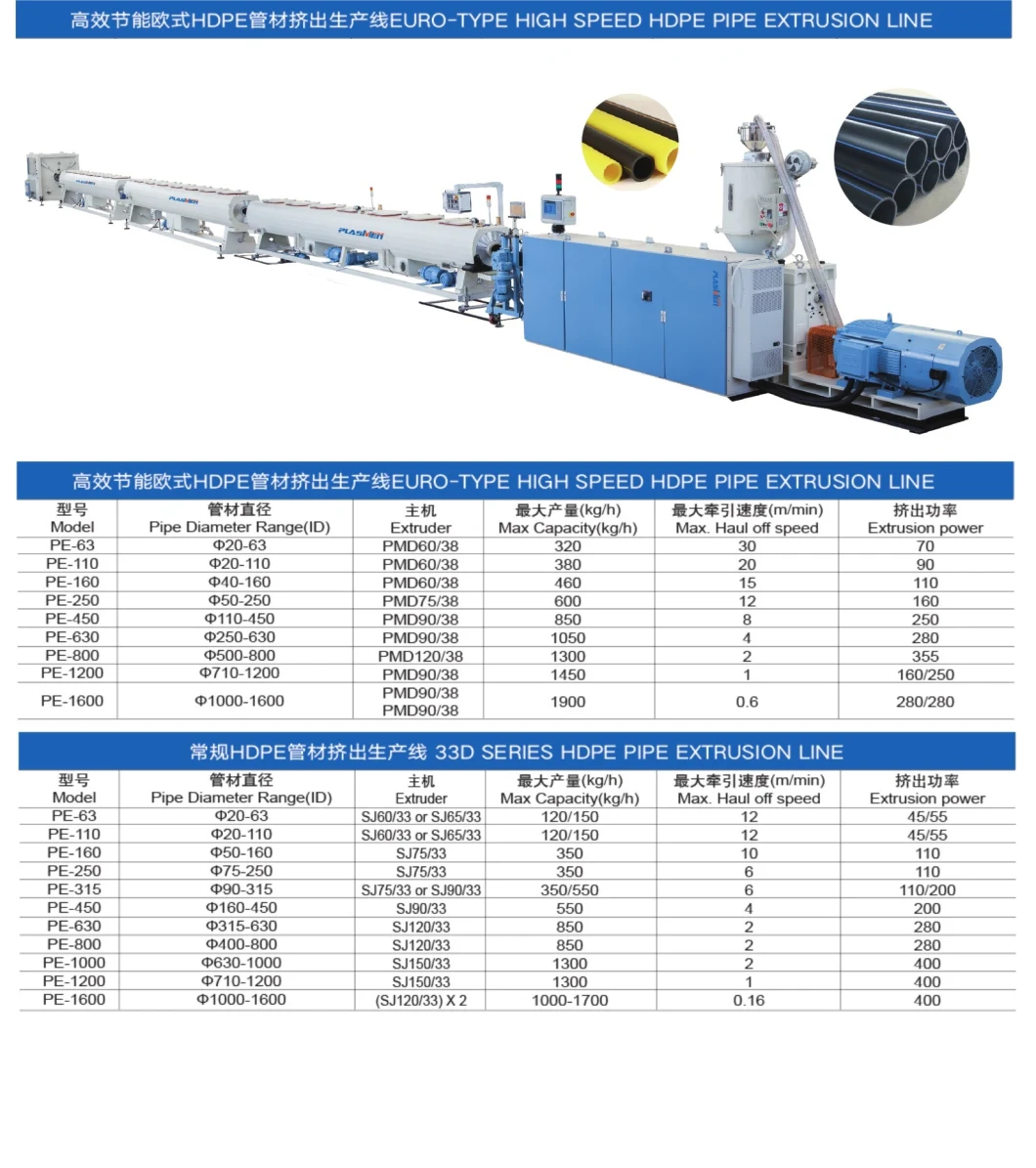 Zhangjiagang City
Plasmen Machinery Manufacture
Co.,Ltd
is a professional manufacturer specializing in
producing & marketing plastic
equipment. We
engaged in the
plastic
industry in 2
3
years
and
a
ll of our technology team and marketing person
have
more than
15
years working
experience
.
We
devoted to developing some
plastic
machines with a professional technology
,
fast service and
reasonable price, supply the best machines for o
ur global
customers.
Our goal is" future by
quality
,
World
by service
"
Plasmen has the strength to design and manufacture various types of super mixers, the mixing units, automatic mixing & weighing & conveying system and plastic pipe extrusion line, etc. Plasmen machines are widely used in plastics, rubber, pharmaceuticals, dyes, food, household chemicals, wire and cable, construction industries.
Our Mail products are the following:
PPMELTBLOWN FABRIC PRODUCTION LINE

HDPEPIPE EXTRUSION LINE

PE-RT/PP-R PIPE EXTRUSION LINE

PVC PIPE EXTRUSION LINE

SHR SERIES SUPER MIXIER

SHL SERIES COOLING MIXER

SRL-Z SERIES HEATING/COOLING MIXER UNIT

PLOUGHSHEAR MIXER

PVC AUTOMATIC MIXING & WEIGHING & CONVEYING

SYST

EM

THE CENTRAL INTEGRATED CONVEYING

SYSTEM

VARIOUS AUXILIARY MACHINERY