PVC Pipe Extrusion Line Machine / PVC Pipe Machine / Making Machine / Extrusion Machine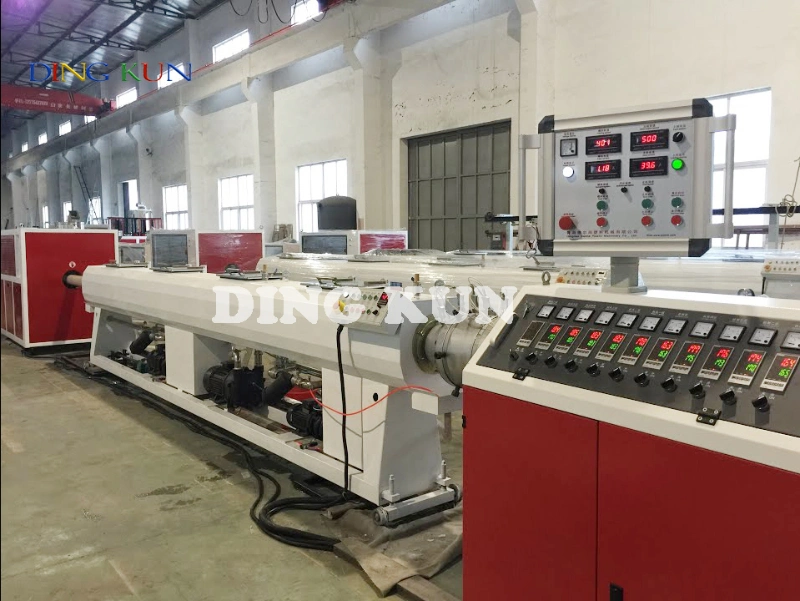 Produce process :
PVC powder + additive → mixing → spring feeding → twin screw extruder → mould and calibrator → vacuum forming machine → haul off machine → cutting machine → stacker
Main Composition
| | |
| --- | --- |
| Item | Quantity |
| 1.SJSZ-XXX conical twin screw extruder (Equipped with automatic feeding unit) | One set |
| 2.Die and Mold | One set |
| 3.Vacuum calibration unit | One set |
| 4.Haul-off unit | One set |
| 5.Cutter Unit | One set |
| 6.Stacker | One set |
| Optional auxiliary machines for your choice | |
| 1.Printer | One set |
| 2.Mixer | One set |
| 3.Crusher | One set |
| 4.Milling machine | One set |
| 5.PVC pipe belling machine | One set |
Technical parameter
| | | | | | | |
| --- | --- | --- | --- | --- | --- | --- |
| Diameter(mm) | 16-40dual | 20-63dual | 20-63 | 75-200 | 160-315 | 315-630 |
| Extruder mode | SJZ51/105 | SJZ65/132 | SJZ51/105 | SJZ65/132 | SJZ80/156 | SJZ92/188 |
| Extruder power (kw) | 18.5AC | 37AC | 18.5AC | 37AC | 55AC | 110DC |
| Max lineal speed (m/min) | 0.5-10 | 0.5-15 | 0.5-10 | 0.5-8 | 0.5-6 | 0.5-4 |
| Max capacity (kg/h) | 120 | 250 | 80-120 | 180-250 | 280-350 | 500-600 |
| Installation area | | | 24*2.8*2.0m | 30*2.8*2.2m | 35*3.0*2.4 m | 36*3.0*2.4 m |
Pictures of Whole Production Line1. SJSZ-XXX conical twin screw extruder (Equipped with automatic feeding unit)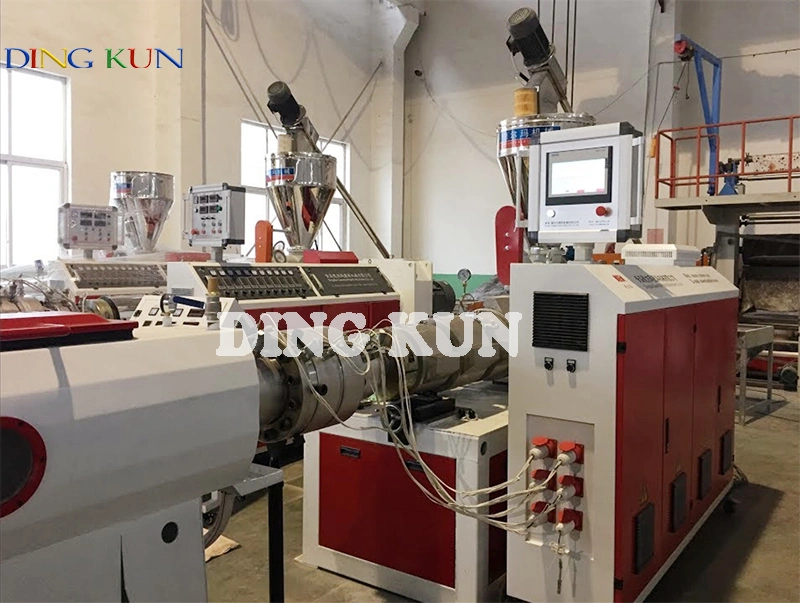 2. Vacuum calibration unit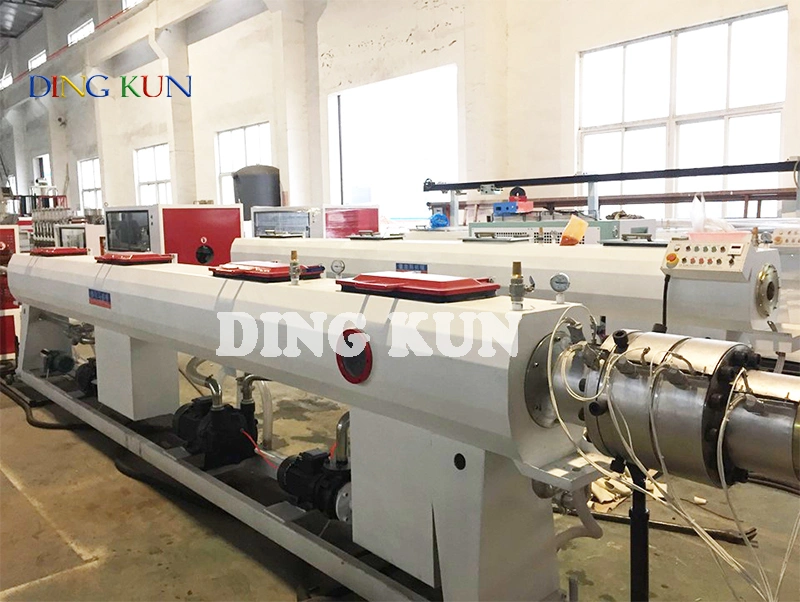 3. Haul-off unit + cutter unit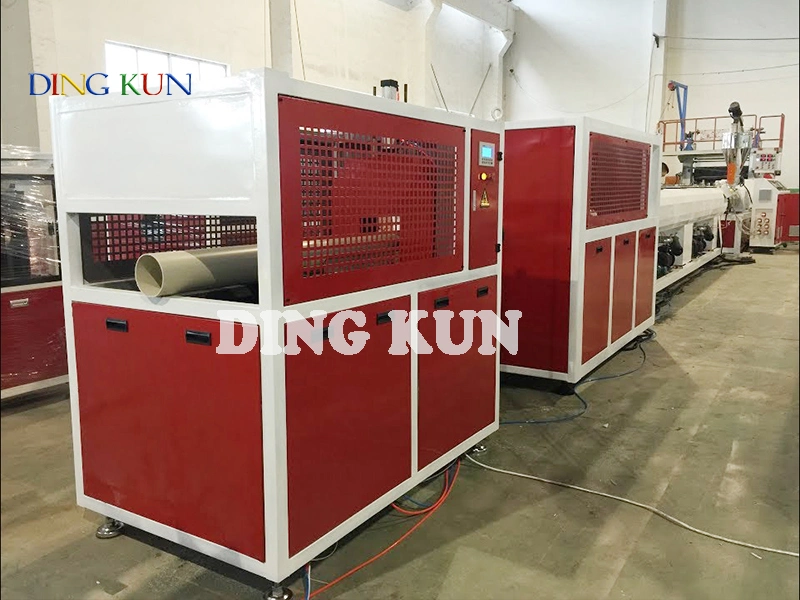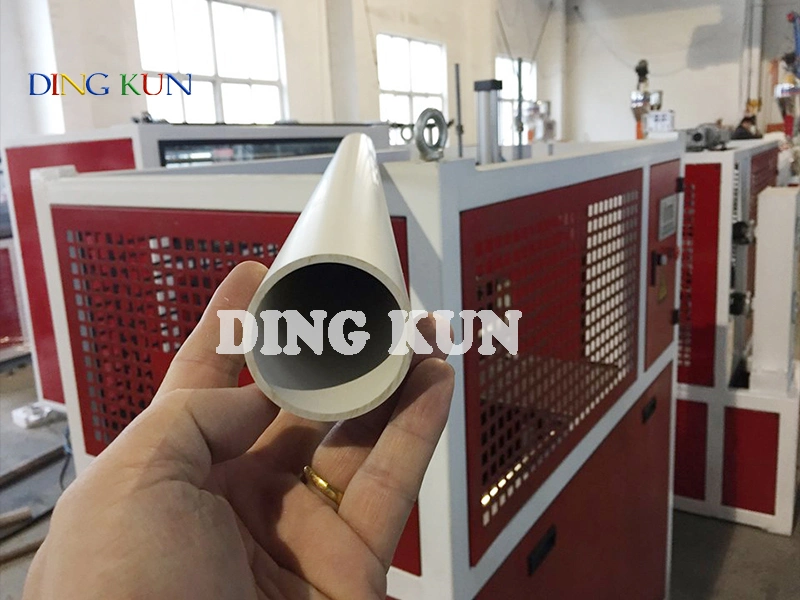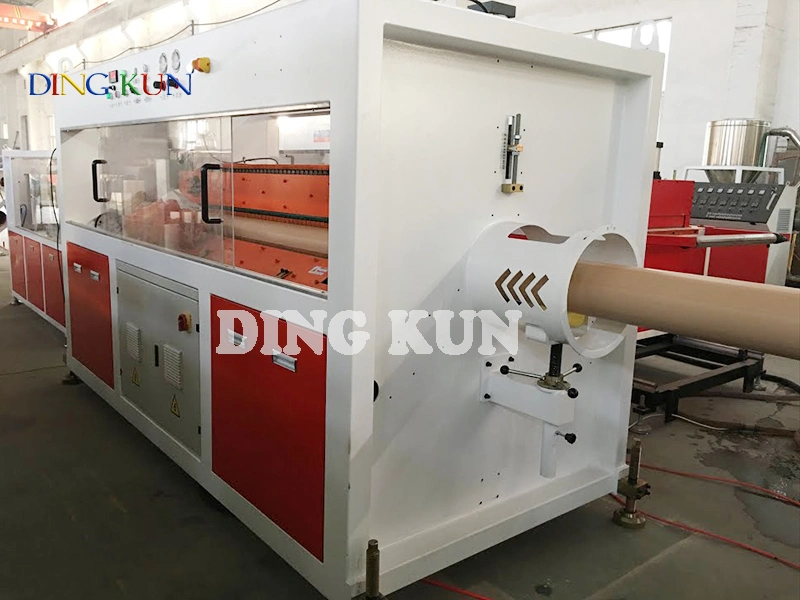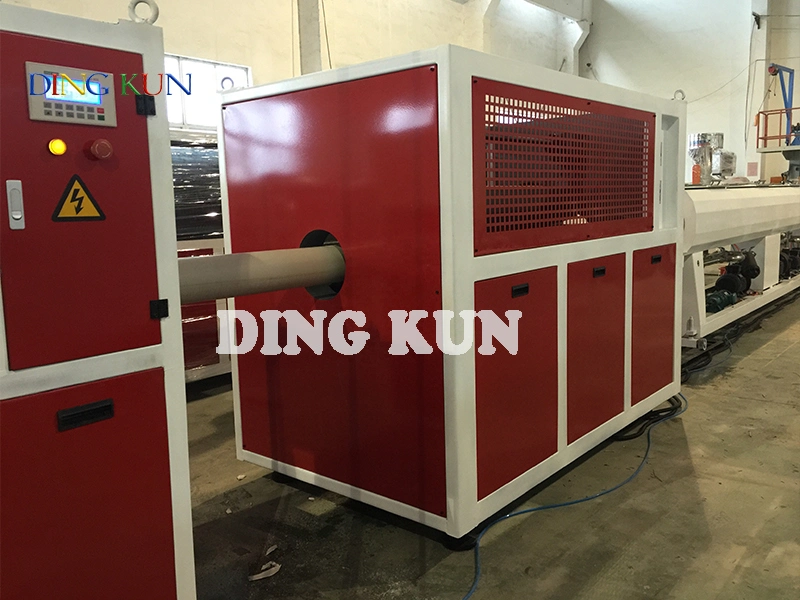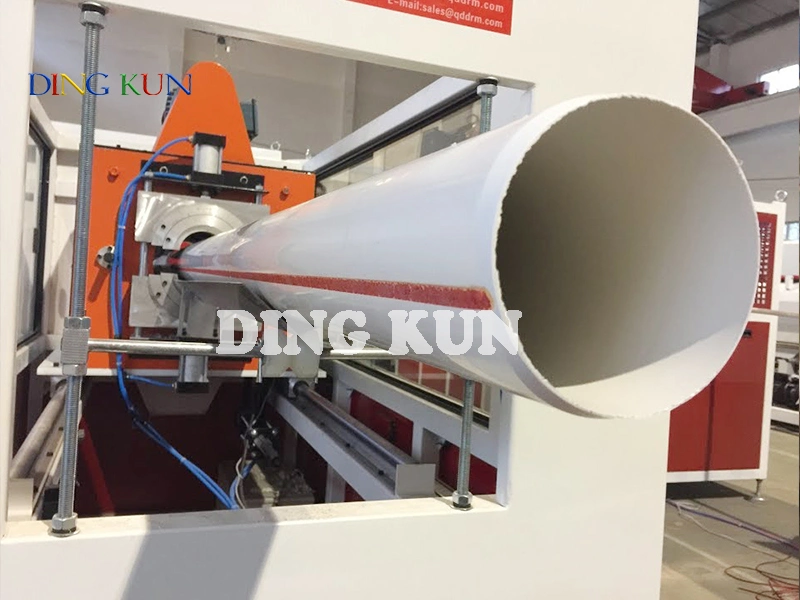 4. Stacker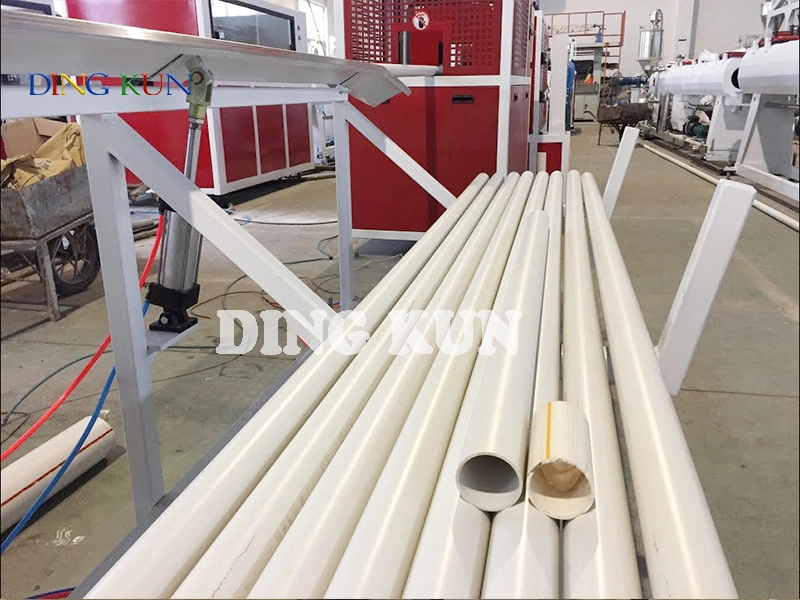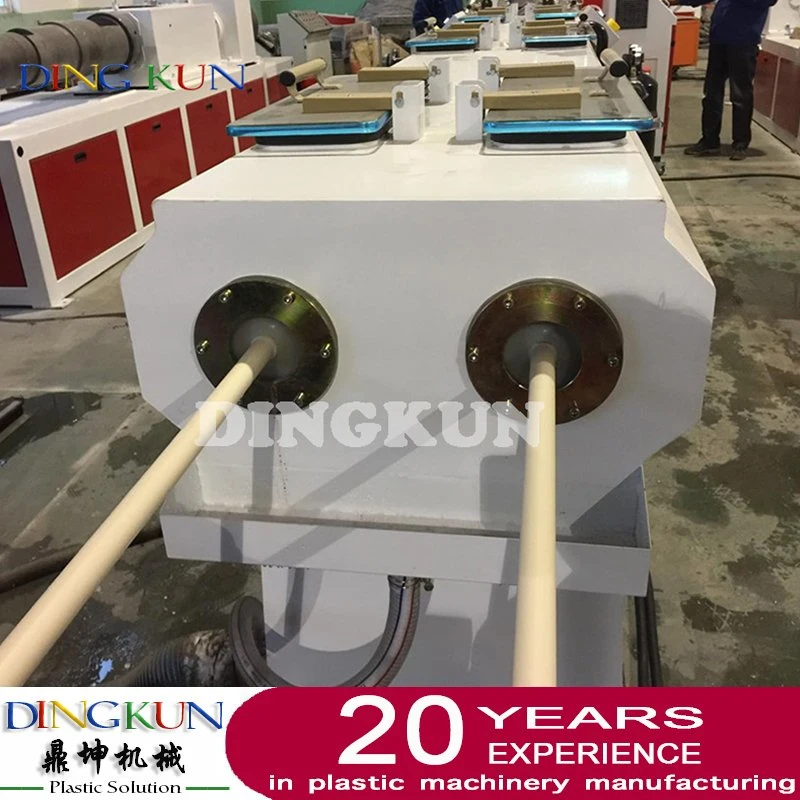 Loading Container & Delivery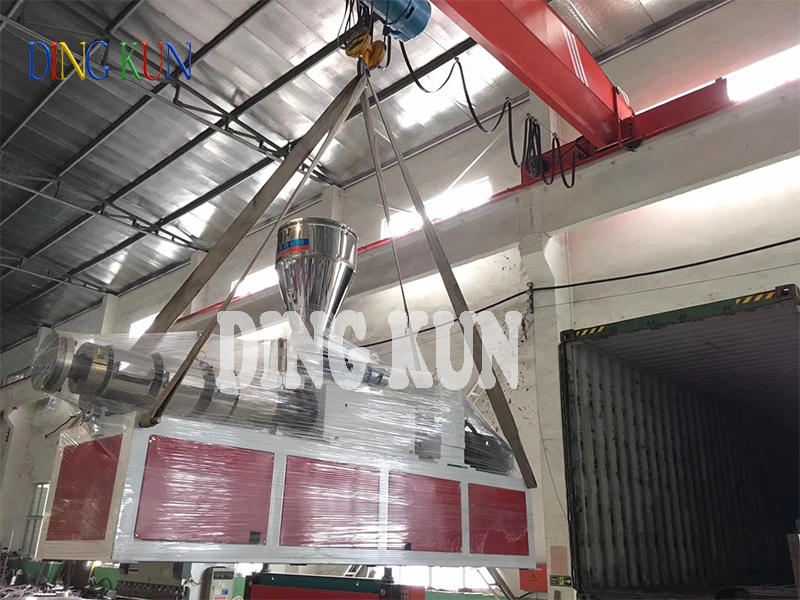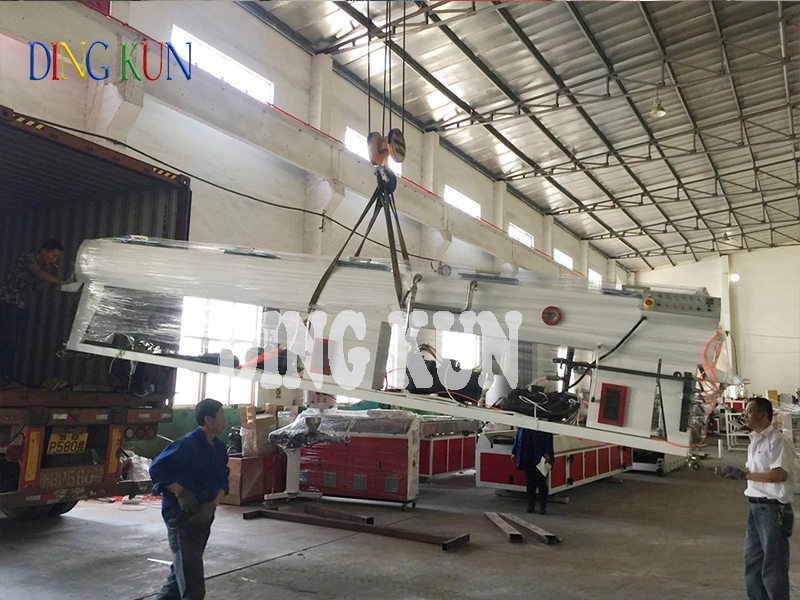 DEERMA - CERTIFICATION
Certification
Certified By
Certificate No.
Business Scope Expiry Dat
ISO 9001:2008
Beijing Hangxie Certification
Center Co., Ltd.,
CNAS

03413Q21640R1M
Design and Production of
Single-Screw Plastic Extruders
and Conical Twin-Screw
Plastic Extruders
CE
EuropeanInspection and
Certification
Company S.A.
CN.CE.0680-10/10
Plastic Extrusion Machinery &
SJ-30, SJ-45, SJ-65, SJ-90,
SJ-120, SJ-150, SJ-180,
SJ-200, SJSZ-51/105,
SJSZ-65/132, SJZS-80/156,
SJSZ-92/188
TUV
TÜV Rheinland
7467484_P+T
Production & Trade Assessment
Main Product Lines Verification Report
TÜV Rheinland
7467487_P+T
Main Product Lines Verification
SGS


SGS-CSTC Standards Technical Services Co.,Ltd
Focus Technology Co., Ltd
QIP-ASR155278
Extrusion Machine, Pipe Machine ,profile Machine, Roof Machine


Execellent Service-Turnkey Project (Pre-Sale and After-Sale Service)

DINGKUN is committed to providing full support for its local and international clients and dealers and will always provide a prompt response to customer enquiries.

1. Provide all the machines for the complete production according to customer's requirements.
2. Provide complete service for factory layout and other information to help customer to build the factory.
3. Provide the raw material to the customer if need.
4. Provide good service for machine installation and training, until the customers can run the machines and make stable production.
5. Provide after-sell service for all the life, except one year quality guarantee,
6. Provide good quality, good price and good service to customer. We are the professional and trustable supplier for turnkey projects. Let us do win-win business together.