The first stage is twin screw extruder and second stage is single screw extruder. It is applicable to processing such as heat-sensitive and shear-sensitive material like PVC, XLPE, HFFR LSHF cable or shield material etc.
1. Stage 1 is co-rotating twin screw extruder, which makes use of twin screw high speed, high shearing and strong compounding advantages to have material compounded in a shorter length of stay and finished compounding process under no die head back pressure.
2. Stage 2 is single screw extruder. The screw low speed and deep slot provide low shearing process environment, which prevent the compounded material from decomposing because of overheat under high pressure.
3. The raised operational flexibility and accurate temperature control do facilitate realization of different technological processes, maximally enhancing production efficiency.
Application for two stages extruders pelletizing machine (cascade extruders)

1. Plastic recycling: PP plastic bags recycling, PE film recycling
2. Cable material:PVC cable, PVC transparent bottle material blood transfusion tube materials, LDPE/HDPE/LLDPE crosslinked cable material
3. Anti-flame(flame retardant) masterbatch: LSHF
PP/ABS/PS/EVA/PA+Mg(OH)2(magnesium hydroxide)/Al2(OH)3 (aluminum hydroxide)
4Carbon black master batch
6 PE silicon hydride crosslink cable material, peroxide crosslink cable material
7Wood- plastic blending material
8 Heat-sensitive polymeride.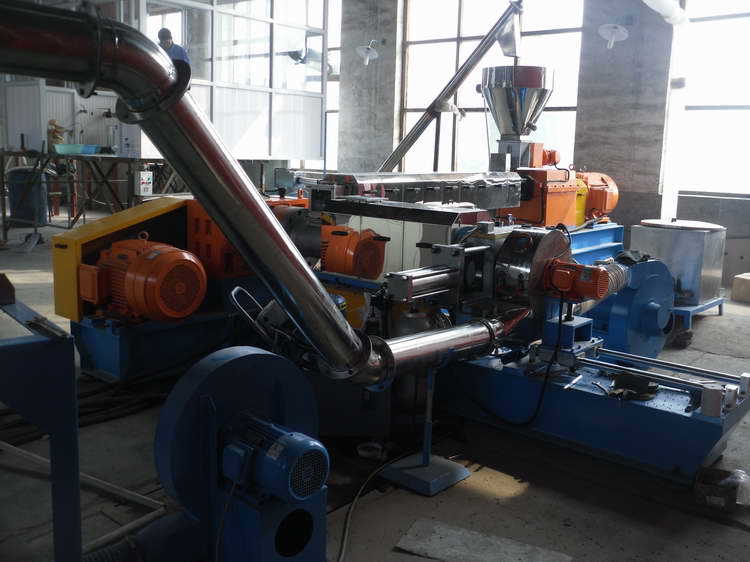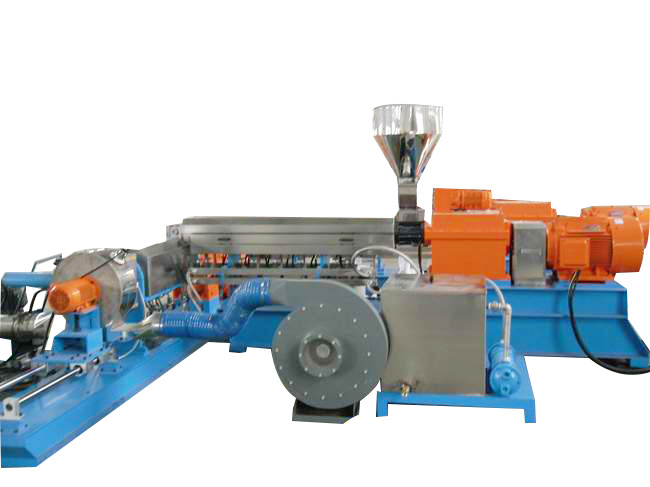 Parameters for the twin screw extruder
Model

D (mm)

L/D

N (r/min)

P (KW)

Q (kg/h)

GL-16A

15.6

28~40

600

1.1/2.2

2~10

GL-20A

21.7

28~40

600

3/4

3~15

GL-36

A

35.6

28~52

500

11/15

20~60

B

35.6

28~60

500/600

18.5/22

20~100

GL-50

A

50.5

28~60

500

45 / 55 / 75

80~150

B

50.5

28~60

400/500/600

45/55/75

120~280

GL-52B

51.4

28~60

400/500/600

45/55/75

120~280

GL-65

A

62.4

28~60

500 / 600

55 / 75 / 90

150~380

B

62.4

28~60

400/500/600

90/110

200~500

GL-75

A

71

28~60

500 / 600

90 /110 /132

300~550

B

71

28~60

400/500/600

110/132/160

300~800

GL-85B

81

28~60

400/500/600/

160/220/280

480~1000

GL-95B

93

28~60

400 / 500/600

250 /280/ 315

750~1400


Fume gas treatment equipment/Exhaust gas treatment equipment for plastic extrusion machines,waste plastic recycling machines and injection processing .During plastic proceeding ,large waste exhaust gas is produced ,it will pollute working house, so this machine is invented,which can remove all the produced waste fuel ,making workers feel comfortable,no damage again Welocme to inquire us
Performance Advantage of our 98% Fume Removal Rate
1. Effectively eliminating odor: efficient removal of volatile organic compounds (VOC), inorganic, H2S, NH3, thiols, other major pollutants and a variety of odor, removal deodorization efficiency can reach as high as more than 99%, desulfurization effect greatly excee
Environmental protection high-tech products: using the most advanced technology concepts, developed the high-tech environmental purification product, can completely decompose toxic and hazardous substances in malodorous gases, and can achieve the perfect deodorizing effect. Malodorous gases through decomposition can be completely achieve sound emissions, no secondary pollution, while achieving effective disinfection and sterilization effect.ds China promulgated in 1993 odorous pollutants emission standards (GB14554-93).
Application of our 98% Fume Removal Rate
Purification of malodorous gases, industrial exhaust gases, such as oil refineries, rubber plants, chemical plants, pharmaceutical factories, sewage treatment plants, garbage transfer stations, etc.