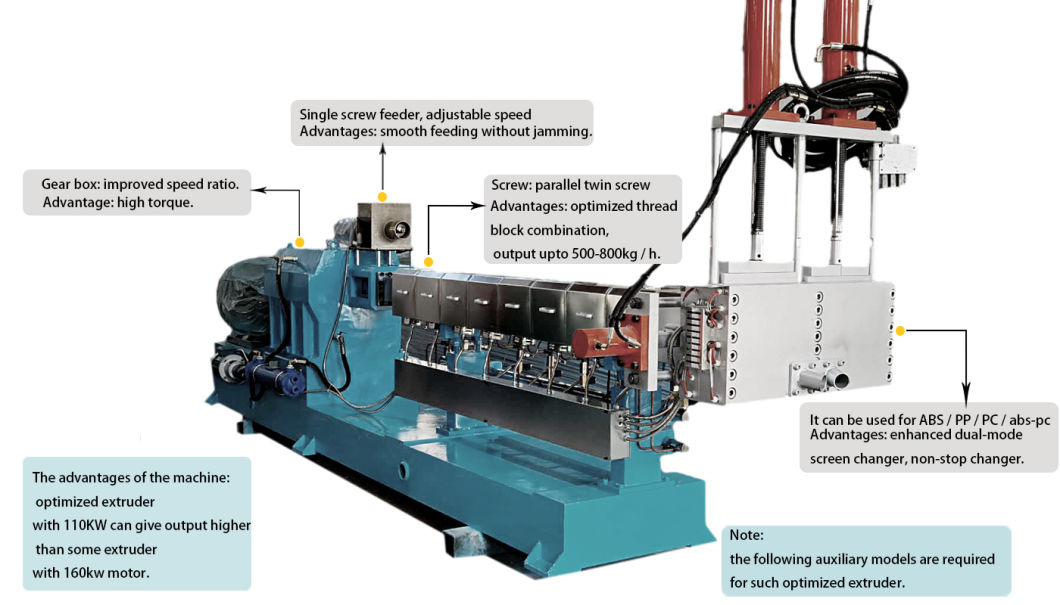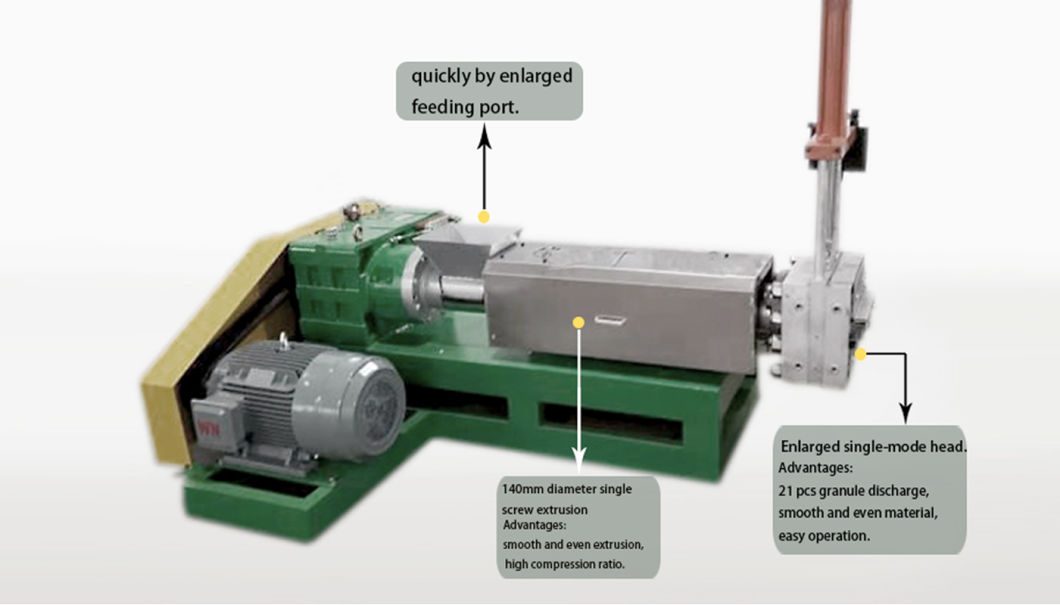 The product is suitable for the production of ABS,PP,PC,PS,POM,PA and other types of engineering modified recycled plastic granulation,
Adopt double stage granulation: first stage with parallel screw extruder and second stage with single screw extruder. The first stage die head with
enhanced
double
screen changer, the second stage with
enhance single changer, thus to ensure that the filter screen is replaced during production without stopping the machine. The device provides uniform cutting and saves labor. High-quality electrical and drive equipment make machinery and equipment safer and more reliable in use. This type of equipment drive transmission system is independently designed and improved by our company, with low energy consumption and high output.
Representative Materials Working Capability Schedule Of QX-series
Same-direction Parallel Parallel Twin screw Extruder (Reference Value)
QX - series twin - screw extruder




35

50

65

75

90

Process




Representative materials




Operating capability kg/h(

reference

value

s)

Mixing nature - changing




PE , PP , PS + SBS : PA + EPDM : PP + NBR : EVA + Silicon rubber . etc .




30-80

100 -180

160-280

350-500

700-1100

PE . PA . PC , CPE + ABS ( alloy ) : ABS + TPU : PBT + PET : PP + PE , eto




25-60

80-180

160-250

300-400

600-1000

Filling nature - changing




PE . PP . EVA , etc . + Calcium carbonate , talcum powder , titanic powder ;




ABS , PC : PS . etc , + aluminum hydroxide , magnesium hydroxide , antimony oxide .




30-60

100-200

200-400

300-550

700-1000

PP . PA : ABS + ferrous powder . sulphuric powder . ceramic powder .




50-90

120-250

250-400

400-600

900-1200

Functional machine pellets




PP . PA . ABS . PBTetc + anti - burning agent and other auxiliary agents : combustion - supporting machine pellets .




30-60

100-180

200-300

350-450

800-1100

PE . PP . PS . etc + starch : de - composing machine pellets




30-50

90-150

150-200

200-350

600-800

PE + fog - preventing dipper , stabilizer : dual - prevention machine pellets




30-50

70-100

170-220

250-350

600-750

PE . EVA . ABS . etc + carbon black : black machine pellets




20-40

50-100

150-220

220-320

400-700

Colored machine pellets




PE . PP . ABS . AS . PA . EVA . PET + pigment and auxiliary .




30-50

80-150

150-250

250-350

500-750

I

ntensified glass fibres and carbon fibres




PP . PBT . ABS . AS . PA , PC . POM , PPS , PET . etc . + long fires , small fibres , carbon fibres . crystals and so on , etc .




30-80

100-180

180-300

250-450

550-900

Various cables




HDPE , LDPE . LLDPE , MDPE . EVA . PVC . PP , etc , insulating cables , coatings : PE peroxide , silicon alkyl crossing cables : radialization crossing cables .





20-80

80-180

150-300

250-450

500-900

Special materials




EVA heat - melting glue , polyurethane , fluorin rubber , fluorine plastics , PP cigarette filtering material and TPR sole material




20-100

40-200

100-350

150-500

450-1100

Reaction extruding




Polyamide condensate , polyamide melting polymerization , polyamide polyethene - adding , polycarbonate condensate , etc .




15-35

80-150

180-250

250-400

450-700

Exhausting and volatilization




Polystyrene oxide , high - absorbing resin , chlorine sulphur polyethylene




10-40

50-100

80-200

120-300

200-500




Powder paint




Polyester , ring oxide , lactide , polyurethane , acrylate




80-120

180-280

350-480

600-780

1200-1400