Table Top Autoclave Class B Series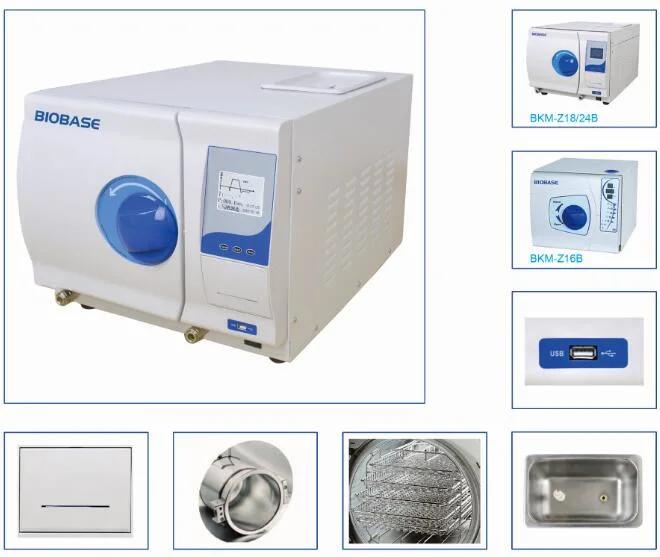 Features:
1. Build-in open type water tank
The sterilizer adopts easy-clean open type water tank which can support repeated program running if fully injected
with water.
2. High-efficiency ultimate vacuum
The sterilizer adopts high-efficiency low noise vacuum system which has excellent effects.
3. Large LCD display for BKM-Z18/24B
The LCD screen can display temperature, pressure, time, operating status, failure warning and other information.
It is convenient for customers to observe the sterilizer running status.
4. Multiple program types
The system has various programs that include: packed items, unpacked items, custom program,
rapid program, BD testing program, vacuum testing program, preheat program and drying program.
5. Standard USB port for BKM-Z18/24B
Users can store the sterilization data with USB disk.
6. Optional mini printer can be attached to record the process of sterilization.

Technical Parameters:
Model

BKM-Z16B

BKM-Z18B

BKM-Z24B

Capacity

16L

18L

24L

Sterilization Class

Class B (according to EN 13060 standard)

Sterilization Temp.

121ºC,134ºC

Special Program

HIV, HBV long-sterilization program

Drying System

Vacuum drying system

Display

LED display

LCD display

Testing System

B&D Test

Vacuum Test

Helix Test

Control Precision

Temperature: 1ºC

Pressure: 0.1bar

Sterilization Data

Optional Mini printer

Standard USB port for BKM-Z18/24B

Safety System

Hand lock door

Pressure lock system

Relief valve in case of over pressure

Pressure or temperature over load protection

Alarm for system failure, finish reminding, water level warning

Water Supply System

Build-in water tank, easy to clean

Water tank capacity

4L

Water Consumption

0.16L~0.18L in one cycle

Tray Holder

3 pcs SS trays on SS shelf

Chamber

Medical stainless steel 304 unibody structure

Max working pressure:2.3bar

Min working pressure: -0.9bar

Max temperature: 145ºC

Ambient Temp.

5~40ºC

Noise

<50dB

Power Supply

110/220V±10%, 60/50Hz

Power Consumption

1800W

1750W

1850W

Chamber Size(mm)

φ240*360

φ247*360

φ247*470

External Size(mm)

445*450*395

495*600*410

495*700*410

Packing Size(mm)

670*550*500

630*830*670

630*830*670

Gross Weight(kg)

52

70

75

Megan Liu
Biosafety Cabinet, Fume Hood, Laminar Flow Cabinet, Incubator, Centrifuge, Autoclave, Shaker, Stirrer,Medical Refrigerator, Freezer, etc.
Mobile: +86-18264149992
Add: No.51 South Gongye Road, Jinan City, China
website: biobase.en.made-in-china.com biobase.en.made-in-china.com