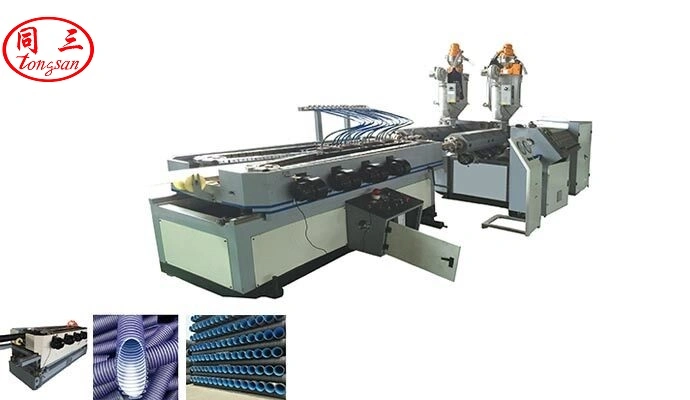 This double wall corrugated pipe making machine equipped with double layer spiral structure extrusion die head. Forming machine adopts vacuum forming type. This production line can produce PP,PE etc material small diameter double wall corrugated pipe continuously and stably. Plastic double wall corrugated pipe has the features of corrosion resistance, wear resistance, high strength, flexibility etc. Small diameter double wall corrugated pipe is widely used in cable sheathing, pipeline sheathing, fresh air pipeline and other fields.
| | | | | |
| --- | --- | --- | --- | --- |
| Model | Pipe Diameter | Production Speed | Extruder Model | Motor Power |
| SJSBWG-50 | 32-50 mm | 4-5 m/min | 65/30 & 55/30 | 30kw & 15kw |
| SJSBWG-110 | 50-110 mm | 3-4 m/min | 65/33 & 65/30 | 37kw & 30kw |
| SJSBWG-160 | 75-160 mm | 2-3.5 m/min | 75/30 & 65/30 | 45kw & 30kw |
Advantage of our Plastic DWC double wall corrugated pipe machine
1. The main machine adopts special designed high efficiency screw which is specially used for polyolefin,it has the features of stable performance and high effiency.The machine has two independence extruders,which can realize both inside and outside layer with different material and colors.

2. Composite extrusion die head with specially helical structure to make the wall thickness unifom and stable production.

3. The forming machine has automatic power-off protection device.The forming machine an antomatically exit from the die head to avoid equipment failure in case of electrucity cut off suddenly.It also equipped with new type high transmitting ratio reducer, easy to operate and mainteance.

4. The corrugated forming system is in combination with water cooling and air cooling to sensure high production speed
continuously.Advanced programmable lubricating system minimizes the moulds wear so as to increase the life of service and ensure work smmothly with high precision to ensure the products quality stability.

5. Mould adopts specialy alumium alloy material and high precision die casting forming mould method,it has the advanages of high precision,high stremgth,good wearability and better heat dissipation performance.

6. Wave structure launched a comprehensive new optimization design to reach the best combination of high-rigidity and low weight.






Company Information
Qingdao Tongsan PLastic Machinery Co.,LTD






WHY CHOOSE US?





Qingdao Tongsan Plastic Machinery Co., LTD is a professional plastic extrusion machines manufacturer which stands by the Jiaozhou Bay. Converged with the national first-class scientific talests, our company is engaged in the study of new- type plastic machines and the conversion of international high-and -new technology. Cooperating with scientific research instifutions and institutions of higher education , we are converting the newest scientific payoffs at top speed. We will supply you the high-performance and high-tech plastic machines, Hollow sheet machine, Corrugated pipe machine, PVC and WPC foam board making machine.
Packaging & Shipping
Fastening of fixed Steel Wire with plastic Film wound Wood Block


Our Services
We will provide the Feasibility Analysis Report for the plastic project.
We will provide the model selection and technical parameter for plastic pipe machine.
We will provide the design for the plant and electric powder accounting for the facilities.
We will provide the design for wood plastic formula according to the product requirement.
We will provide the technology of plastic pipe product surface treatment.
We will provide technique training for operator.
We will provide solution for the practical problem during the production.
We will install and test machine for free.
We will provide turnkey project to customers.
Contact me
We look forward to have the opportunity to work together with you in the future.
Alan Jia